2018 District 7 Cabernet Sauvignon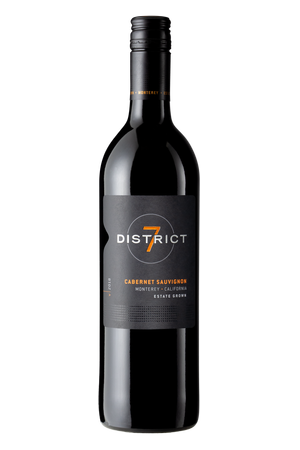 Wine Specs
Varietal
Cabernet Sauvignon
VINEYARDS
The 2018 District 7 Cabernet Sauvignon combines fruit from two estate vineyards in southern Monterey County. The Hames Valley Vineyard is located near the border of San Luis Obispo County. Sheltered from the afternoon winds, it possesses the largest diurnal temperature swings in the county. The combination of warm days, crisp nights and an incredibly long growing season makes this an ideal locale for big, tannic reds. The San Lucas Vineyard is in the San Lucas AVA. (What are the odds of that?) This is Monterey County's climatic tipping point for Bordeaux red varieties with days that are warm and sunny and nights that are cold and calm.
WINEMAKING
The grapes were harvested in the early morning hours based on ripeness, acidity, pH and seed color. In the winery, the fruit was sorted, crushed and fermented in small lots. Gentle handling and minimal intervention preserved the integrity of the variety and the character of the individual sites.
TASTING NOTES
The District 7 Cabernet is a classic that hits the sweet spot where power and structure meet elegance and ­finesse. Aromas of ripe dark cherry, raspberry and vanilla infuse the glass. Beautifully balanced and elegant on the palate, the silky tannins complement flavors of juicy blackberries, currants, almonds and cassis.
Wine Specs
Varietal
Cabernet Sauvignon